Case
1: AC pump: 11kw, 3phase 380v, 50Hz.
2: Solar pump inverter: three phase,380v, 15kw Input voltage: 450V-750V.
MPPT voltage: 480V-600V (Model: SGY15KH)
3: Solar panel array power: total 16.8kw, each solar panel 300w,
vmp: 36V, voc : 44V, total 56pcs.
14pcs of 250w solar panels should be connected in series.
Total Vmp: 36V*14pcs=504VMeet inverter' MPPT voltage 480V-600V
Total Voc: 44V*14pcs=616V Meet inverter's input voltage 450V-750V
Total power: 250w*56pcs=14000w
Also the project was selected to record on Program "Approaching science" of Sci-Tech Channel CCTV10 on 4th March 2011. The
recorded program name was "windmill on the prairie". Kindly check the link below.
As the host speaks Chinese , here is the summary of the TV program . When the TV program goes on after 5 minutes , there is a
screen of SETEC inverter in the power cabinet.
More than 1,200 pastoralist families live in Xilin Gol prairie in Inner Mongolia. Because there was no electricity, herdsmen used to
light by candles and oil lamps at night . Scattered herdsmen do not have the network power . From the late 70s in 20th century,
researchers started the scientific research of small wind turbines. Now almost every household has installed small wind turbines
rely on wind and solar power. Herdsmen like the city people have electricity to enjoy TV, refrigerator and electric stove and so on..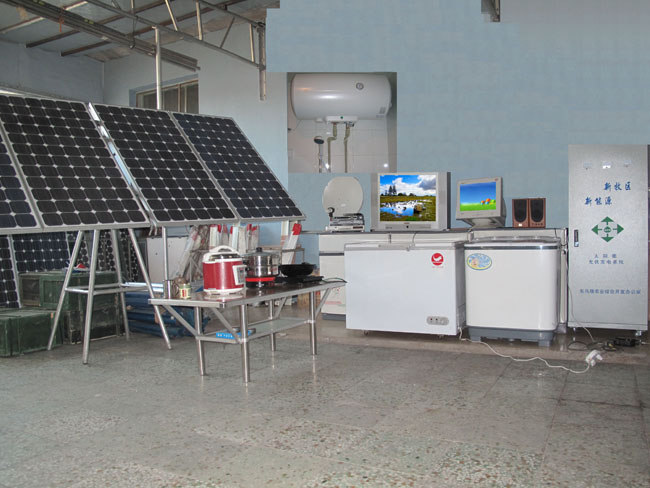 Please feel free to send your inquiry to following Email.
We will reply you within 2 hours