Product News
CCS Combo 2 to CCS Combo 1 Adapter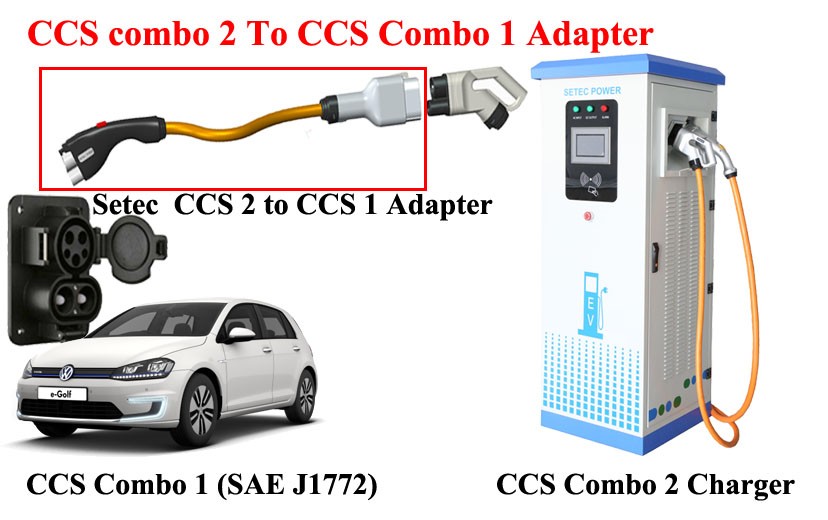 We launched the CCS Combo 2 To CCS Combo 1 Adapter (CCS2 to CCS1 Adapter) to markets for EV Drivers which want converter CCS combo 2 to CCS combo 1.
This CCS Combo 2 to CCS Combo 1 charging adapter is specifically for European and American markets' Drivers.
When there are CCS Combo 2 EV Chargers around them and their EVs are from American Standard (SAE J1772 CCS Combo 1), they need to use CCS Combo 2 to converter to CCS combo 1 to charge their EVs.
So the CCS2 to CCS1 Adapter will help EV drivers to use CCS Combo 2 EV charger to charge the SAE J1772 CCS Combo 1 EVs.
1. High Flexibility and Durability
Easy-bend and tough rubber are used for the cable.
2. User-friendly Design
This connector is designed to operate viscerally by having handle shape.
3. Excellent Operability
Charging is performed by only inserting a plug into a vehicle-side inlet. After charging is completed, push a button and withdraw the plug.
4. Safety Design
The connector has automated triple safety lock system which prevents the disconnection of the connector from vehicle side inlet accidentally during charging.
5.A Wide Range of Operation Temperature
It can be used under a wide range of environmental temperature from -30℃ to 50℃.
Combined Charging System (CCS SAE J1772) – (BMW, GM, VW, and other USA car makers)
| | |
| --- | --- |
| Rated voltage | 1000V |
| Rated current | 200A |
| Ambient temperature | -30°to +50° |
Please feel free to send your inquiry to following Email.
We will reply you within 2 hours